Ryan Murtagh is an Entrepreneur (Telstra Collab)
This post is brought to you by Telstra
As regular readers of Small Talk & Co. would know, I cannot curb my enthusiasm for the stories of inspiring entrepreneurs from across Australia (and apologies for any past abuses of hyperbole!). However there are some great local businesses I support avidly, but cannot profile on Small Talk. I call you my invisibles - they who cannot be named - who boast brilliant founder stories, and bright and innovative products and services - but whose businesses have no online presence or sales platform. I have to thank Telstra Business for this opportunity to add-on to the usual ST&Co. interview format and weave a little visibility magic in the lead up to this Christmas period.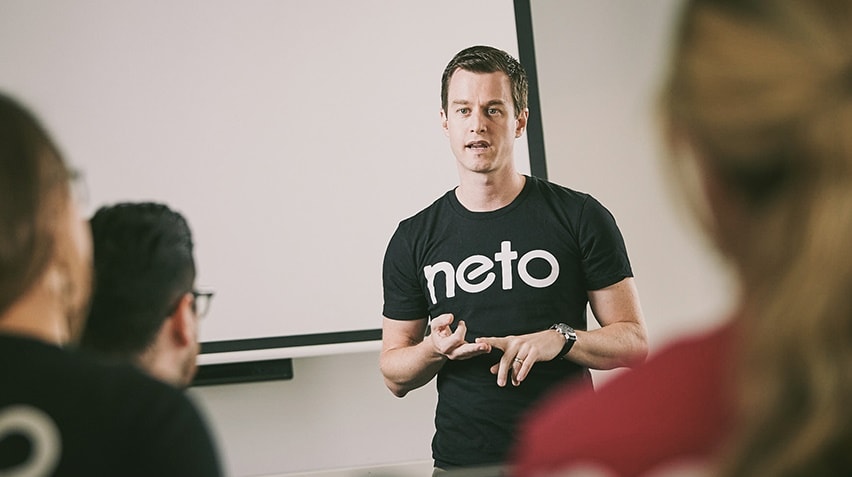 Ryan is an entrepreneur
From successfully taking over the school tuckshop then selling it back to his principal for a profit, or selling fly fishing gear to his classmates, Ryan Murtagh has always had an entrepreneurial spirit, making invisible markets visible since his early teens. Ryan's biggest success to date has been the growth of Neto, a leading all-in-one ecommerce platform, now backed by Telstra's powerful service and support network.
"Pick, pack and dispatch" convenience is Ryan's rallying call to small and medium businesses who haven't yet made the leap online. Neto's all in one solution helps retailers overcome the barriers to online visibility and success with one simple idea "the ability to setup your own online store, to list your products there, and to fulfill those orders through one centralised back office is really what we're all about" - Ryan
Interviewed recently at StartUp Grind Brisbane, Ryan shared his experiences building Neto from a personal pain point running a multi department store in the early days of Ebay Australia, and why an early experience with chicken innards motivated him to always be his own boss (if you want the full juicy details, catch the video here). But the path to success is never smooth, and for Ryan it meant building, rebuilding and selling businesses until he found the one that sparked that made it all worth the pain.
"I guess what has always got me through was the potential - this industry is so new, and there's just so much opportunity. And when I see what businesses today are still doing in terms of manual processes, and in the way they're operating their businesses, even the big guys, some of our biggest customers, I think that there's so much opportunity, and that's what gets me" - Ryan
Ryan's parting advice is especially relevant to all of you out there whose businesses will miss out this Christmas period, waiting until 2017 to build that online store or reinvigorate your point of sale -"Never take no for an answer, and just have fun! Don't get caught up in the red tape"
And now for that extra little bit of magic - in a rare opportunity to make visible the invisible, I'd like to introduce you to a couple of stellar startups that have been hiding in the shadows;
Caitlyn is a signwriter
The side project: Long time readers of Small Talk might remember Caitlyn and Jenni, a mother daughter duo with a ripper retail store in rural Victoria, Mumma Goose. It might not surprise you that Caitlyn's artistic background means retail isn't her first love, and as her bold and creative window displays have attracted the attention of more than one local bride, Caitlyn has a promising side business in event signwriting.
The next steps - Neto's point of sale and webstore solutions would allow Caitlyn a low investment and easy to use jumping off point to bridge the gap between local customers and loyal social media fans in larger urban markets. Connecting followers far and wide with great SEO supported by Telstra's Online Essentials.
Barbara is a macaroniac
The growth opportunity: Barbara is obsessed with Macarons and has bloggedpassionately about her baking adventures in her spare time for many years. In addition her full time job, Barbara has recently made the sweet leap from hobby to business, and is looking to sell her macarons at a local foodie market.
The next steps: Barbara is looking for a seamless solution that saves her precious spare time for more baking and less accounting! Neto's industry specific templates are tried and tested for food retail with speedy delivery features and click and collect convenience.
Mitch and Nancy are designers
The multipotentialites: Mitch and Nancy of Mina Mina. I really don't know where to start with this duo, a multi-talented match made in creative heaven. MiNa are architects, furniture makers (check out Nancy's Lily table, which as we go to press has been announced the winner of this major Australian design prize), stationery and fashion designers whose colourful minimalist style and positive can-do attitude will drive them forward.
The next steps: Mina Mina is a multidisciplinary studio with very particular aesthetic and collaborative requirements. Tweaking one of Neto's sleek fashion industry templates would give these designers the cool control they need across mobile and desktop applications. Using the Neto platform Mina Mina's strong brand is seamless across the web, creating a portfolio of their architectural work, an online store for their fashion and stationary and an integrated point of sale system via the iPad app for future market stalls.
Your business here!
The opportunity: In spirit of making the invisible visible, today is your day! Let us know in the comments section below what's great about your side project or micro business and we'll might just feature you here!
Inspired and ready to get your business online in a matter of days? Click through for a no-obligation three-month free trial with Telstra Online Essentials visit: www.telstra.com/onlineessentials or to set up an online store with Neto visit: www.telstra.com/digitalcommerce.