In May 2018 I completed a project-based learning experience via Harness Projects, working as a UX Designer for Smiling Mind. In this role I applied human centered design and design thinking principles on a project brief centered on improving the user experience of the Smiling Mind mobile app. I collaborated with Melissa Cupples, Head of Product and Strategy at Smiling Mind and mentor Lisa Huck. Allocating 8-16 hours a week to the project, I presented my UX recommendations after 8 weeks.
PROJECT: End to end User Experience re-design for mobile app
TARGET USER: primary existing users; women aged 24-44 years
GOAL: improve existing user retention and identify new revenue opportunities within the existing not for profit enterprise model and mobile application
ROLE: USER EXPERIENCE DESIGNer, researcher, User interface designer
To comply with my confidentiality agreement I have omitted and appropriated confidential information. All images are my own unless otherwise noted.
An iterative application of design thinking principles; Use empathy to ensure you're designing the right thing, and ideation and prototyping to ensure you're designing things right. This model is my adaptation of the double diamond refined over the years.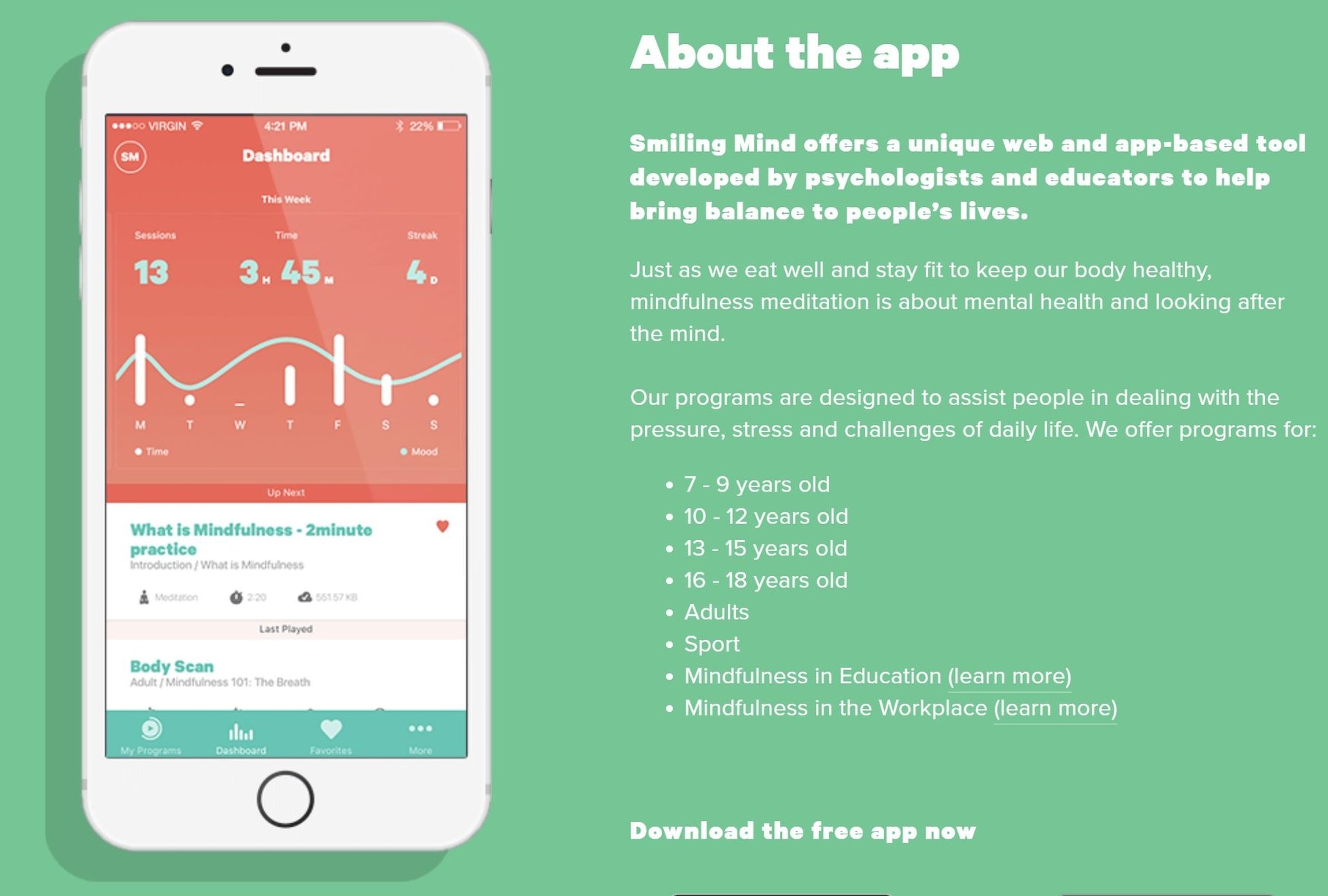 establishing stakeholder needs
+ Define scope of work
+ Define target users segment and characteristics
Key activities: Stakeholder interviews, Existing user desktop research, Market and Competitor analysis
Artefacts: Research Plan, Competitor Analysis, Stakeholder Situation Statement
Image: Existing App, image via Smiling Mind
Through stakeholder interviews, I was able to gain a better understanding of the current situation - reported poor existing user retention. Smiling Mind were aware of users dropping off after 1 session or less than 1 week after downloading, but didn't have research that specifically outlined the pain points that caused this behaviour to occur.
Identifying these pain points and specific improvements to retain users became the main goal of the project.
Additionally, as a not for profit, they were looking for new ways to add and capture value to maintain the free public app and ensure financial sustainability in the longer term.
+ Understand existing user behaviours and attitudes
+ Gain deeper understanding of existing app flow
Key Activities: User Interviews, Contextual Inquiry, Existing App SUPRQ Survey, Expert Review, Mindmapping, Reported use of Competitors
Artefacts: Personas, Stakeholder Canvas, Survey and Survey Results, Interview Questions, Customer Journey Mapping, Empathy Mapping, Assumptions
Purpose: To gain deeper empathy for Smiling Mind's key customer segments(s) – to document specific pains and gains in existing user journey as a guide to identify opportunities for optimising the end-to-end customer experience.
Practice: Qualitative and quantitative research including; existing user interviews, contextual inquiries and survey in the key adult segment; Australian women aged 24-44 years.
Synthesis part I - Personas
At the end of this stage I identified 3 key personas representing the user's need for support from the Smiling Mind app; the Expert, the Novice and the Reluctant mediator.
"I like the app, but I don't know where to focus"
Nina the novice meditator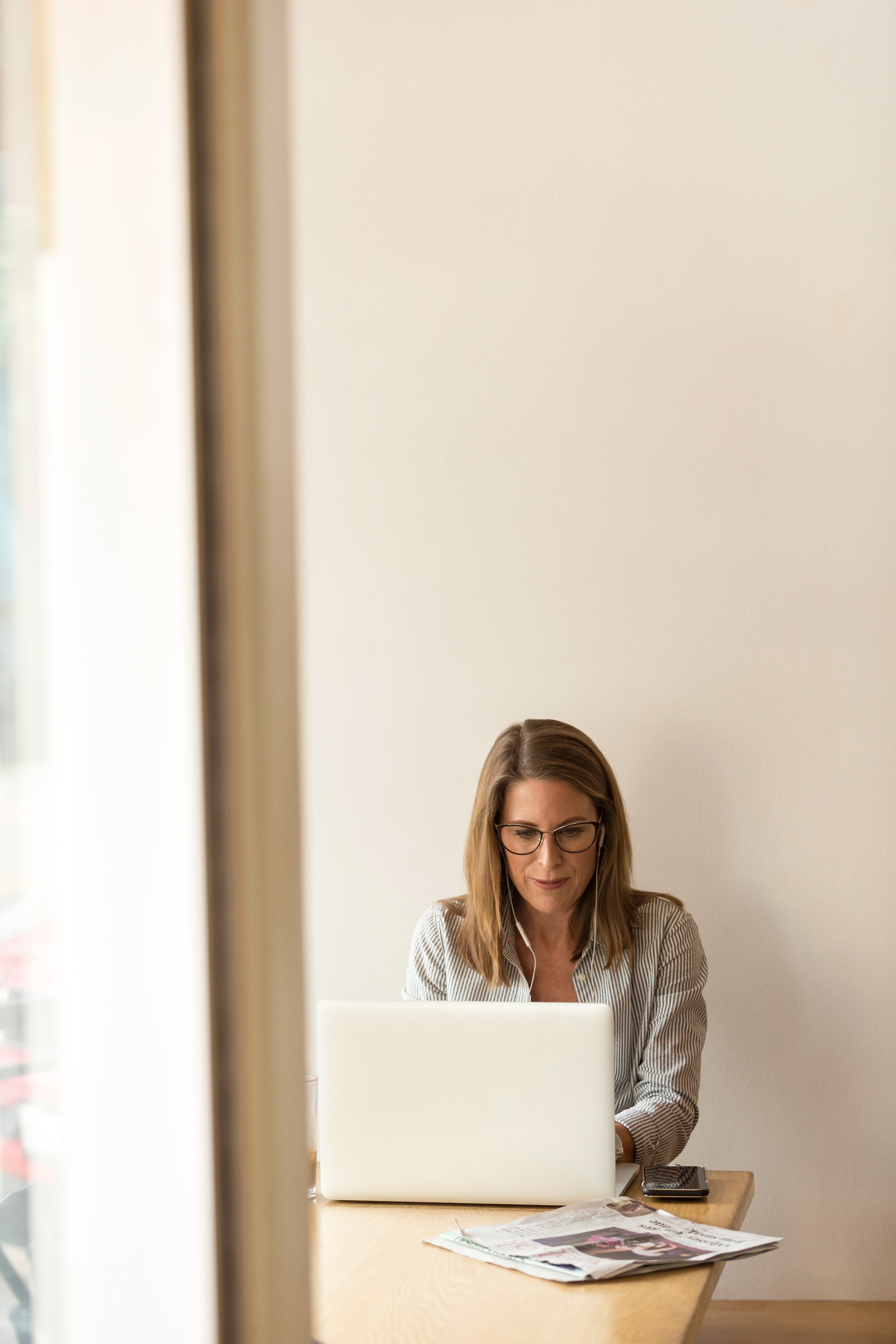 "I love that Smiling Mind supports my practice"
Erin the expert meditator
Other User Research Artefacts
+ Converge to collate research artifacts into actionable next steps
Key Activities: Creation of artefacts, Refinement of research outcomes, Mid- Project Presentation
Artefacts: Value Proposition Canvas, Target Market Characteristics, Opportunity Statement, Customer Value Proposition, Feature Prioritisation, Hypothesis MVP changes, Stop Start Continue
Key activities: Sketching and Story Boards, Writing user stories, Benchmarking competitor design elements and style
Artefacts: Scenario sketches, Storyboards, How Might We statements, I like I wish What if statements, User stories, Ideal Journey Planning
Improve User Retention
With the user's pains and dream gains synthesised, I looked outward again for inspiration and best practice. In this case that meant comparing two research streams; other meditation apps (in particular market leaders) and more broadly, leading wellness industry brands. Collecting and analysing visual and user flow data from both streams, I was able to benchmark the kinds of best practices that Smiling Mind's user base had come to expect.
Propose new ways to add and capture value to maintain the free public app
The next step was to mesh those industry-leading practices with Smiling Mind's not-for-profit reality. Frequent and long term users had told me again and again that they loved the brand, and the work Smiling Mind did in schools. They wanted to support Smiling Mind's ongoing success. They were already loyal but mentioned that being engaged more often or more deeply might increase the frequency with which they were willing to pay (donate) to support Smiling Mind. I began to ideate ways in which to increase brand engagement with with that goodwill, introducing low friction calls to action to donate to Smiling Mind more often.
artefacts of ideation
Key Activities: Understanding optimal user and task flows, Testing and Iterating
Artefacts: Task flows, User Flows, Wireframes, Low-fi prototypes, Hi-fi prototypes, Testing Script, User Mission Writing, Post-Test Survey (SUPRQ)
With limited resources on this project, I was able to harness user feedback to prioritise feature improvements to target pain relievers and gain creators in 3 key task flows;
on-boarding new users

direct to meditation or self directed discovery

dashboard depth

minor customisation, preference setting, enhance brand ENGAGEMENT and awareness

post session shortcuts

to amplify access and use of existing features in favourites, reminders, self-reporting, and low-friction donation
With these parameters set, I commenced iterating the flows through various levels of low fidelity prototypes, testing with existing Smiling Ming users representing the 3 persona's along the way.
Next step was to refine the flows and take the wireframes into a series of high fidelity prototypes. I used Adobe XD in this project.
Sample presentation task flows and high fidelity interactive prototypes
The final step! Bringing all the information together into a concise set of recommendations for presentation to Melissa Cupples, Head of Product and Strategy at Smiling Mind.
Key Activities: Presentation writing and design, Pitch refinement, Compiling research, Practice Practice Practice
Artefacts: UX Recommendations and Appendices, Interactive Prototype
extract of UX RECOMMENDATIONS presentation
Feedback
At the end of the 8 week project I received the following summarised feedback from project mentor, Lisa Huck and client, Smiling Mind's Head of Product and Strategy, Melissa Cupples.
strengths
Requirements gathering

User research

User personas

User journeys

Problem statements and user stories

Value proposition analysis and design

Information architecture

Sketching, Wireframing and Prototyping

Usability testing